Welcome to our guide on the best swimming pools in Ajman! If you're a resident or a visitor looking for a refreshing escape from the scorching heat, you're in luck. Ajman, one of the seven emirates of the United Arab Emirates, boasts a wide range of luxurious and well-maintained swimming pools that offer an oasis of relaxation and enjoyment. Whether you're seeking a family-friendly pool with water slides and play areas, a tranquil and serene spot for a swim, or a pool with stunning views, Ajman has it all. Join us as we dive into the top swimming pools in Ajman and discover the perfect place to cool off and unwind.
Aqua Safe Pool
Address :
Block A Office No 109, Nazir Plaza Industrial Area1, LULU Hyper Market Building – Ajman
Contact Number :
+971552737202
Reviews Count :
★★★★★ 5.0 | 43
Website :
http://www.aqua-safepool.com/
Location :
Customer Reviews :
1:
zaviya tahreem: Excellent work. Amazing quality of products and highly satisfied with the on time services provided. Highly skilled and professional work.
2:
Syed Khalid Ahmed: 1) Excellent job done by the professional team at a very competitive price 2) work done in a very professional way 3) At your service anytime
3:
kamran khan: Good work professional staff high quality job on time servicing i am very happy.
---
Adwaa Swimming Pools Contracting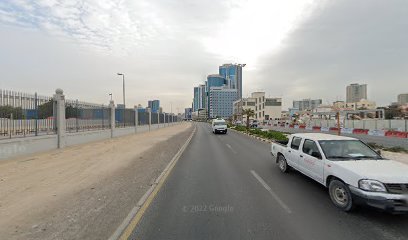 Address :
CF52+3PC – Sheikh Rashid Bin Saeed Al Maktoum St – ليوارة 2 – Ajman
Contact Number :
+971568036012
Reviews Count :
★★★★★ 4.9 | 7
Website :
NA
Location :
Customer Reviews :
1:
ENGINEER TAKEY ALDEEN AL-HAJ: nice
2:
Ouseph Sabu: Best
3:
Kevin Dcosta: Best
---
Ajman Society Swimming Academy
Address :
CF8C+66 Ajman Musherif – next to msherif police department – Ajman
Contact Number :
+971586777111
Reviews Count :
★★★★★ 4.7 | 211
Website :
NA
Location :
Customer Reviews :
1:
Manal Mokhtar: I joined this academy four years ago and I noticed a great development in the services in terms of cleanliness of the swimming pool, air-conditioned and non-air-conditioned waiting areas, canteen, in addition to the increase in the number of shower rooms. The staff are friendly and cooperative. My sons love the coaches their and they like the fitness class as well.
2:
KALIF RN: My kids have a great fear of the water, hence we enrolled them in this academy. We do not have any expectations and to just let them be. But after a series of sessions with the guidance of their wonderful coach, with so much pride, they are loving and swimming their way into the water. We keep looking forward to come and learn from the stories of the kids of how they manage again to muster another skill. We are on our way of extending another month. We are so grateful for this academy for this program. And to top it off, the people are friendly and serious about helping the kids attain their potential. Thank you Ajman Sports Academy!!!
3:
OUR ACCT BIG FAMILY: After a month into this training, we have seen a lot of transformation of my children's ability to go into the water and swim as they were scared before. The patience, support, professionalism and kind dedication of the coach have gained a tremendous impact on their swimming potential. They have both surpassed level 1 and looking forward to the next level and the next and the next. We highly recommend Ajman Sports Academy particularly swimming to enroll your kids and you will see great results.
---
Infinity fitness Club & Bodybuilding Gym
Address :
Grand Mall – Sheikh Khalifa Bin Zayed St – Al Rashidiya 3 – Ajman
Contact Number :
+971503180202
Reviews Count :
★★★★★ 4.7 | 597
Website :
https://www.infinityfitness.ae/
Location :
Customer Reviews :
1:
meera mohan: Love this gym💓, my kids go for outdoor sports and swimming. One of best package among others in Ajman. I visited and enquired abt the class in various gym. I felt this is too good🤑. Very well mannered and bubby reception staffs. Coach's are too good to train the kids. Washroom neat, clean and well maintained. Mixed gym for men and women 😊👍
2:
Noman Khan: This is best Gym in Ajman and surrounding areas. I have seen it for over 3 years and the management has done a tremendous job is making it happen. They have the best coaches and customer service/sales staff who are always there to help. My 5 yrs old son has been going there for swimming and other active sports which has made him very active and fit. Atmisphrre is kids friendly and a very safe environment. All the best. Congratulations your 3td anniversary.
3:
imtiyazsoni: We are very much happy to join infinity and we are thankful for coach Captain Rami Ali. For helping my kids to learn from scratch to be a proper swimmer. My suggestion is to take Rami as your coach so that your children ll be a proper swimmer.
---
Fit Box Center
Address :
Al Jerf 2 – Ajman
Contact Number :
+971545674000
Reviews Count :
★★★★★ 5.0 | 28
Website :
http://www.fitboxcenter.com/
Location :
Customer Reviews :
1:
Hajer Saad: The center is excellent in terms of trainers, hygiene, multiple activities, and prices as well. This is the third time that I have registered my children.
2:
safar ahamed: A great place with great staff! Special mention to coach Adil.. the way he took care of my 5 year old special kid is beyond words! I recommend this place to all parents with special kids in Ajman.. Reha's Dad
3:
Masum Patowary: Good place for kid fitness activities
---
Prosportsuae Swimming Academy – Swimming Academy Sharjah
Address :
Meliha Rd – near National Paints – Industrial Area 17 – Sharjah
Contact Number :
+971585880160
Reviews Count :
★★★★★ 5.0 | 14
Website :
http://www.prosportsuae.com/
Location :
Customer Reviews :
1:
Raja Alsaleh: I am happy that my children are back to swimming lessons after a long time. I am more happy that they joined Pro Sport swimming Academy. Coach Patrick is wonderful ; He is amazing in teaching kids swimming techniques and that really reflected on my kids's performance and development. Thank you very much coach 🤩. …
2:
Maria Eleftheriou: Coach Patrick is a phenomenal coach. With his support, my daughter has gone from crying throughout her swimming lessons (at another swimming academy) to now swimming in the deep end. Coach Patrick is friendly, patient and encouraging, and he has a natural authority that motivates the children to improve their skills. He uses excellent techniques to teach the children and focuses on form. He communicates clearly, has a great rapport with children and rewards their accomplishments. Thanks to Coach Patrick, my daughter looks forward to her swimming lessons and is motivated to improve. We're so lucky to have him as a coach!
3:
hady mattar: Pro sport coaches are simply amazing, our kid goes with Mark for football and with Patrick for swimming, he enjoys his time to the utmost and loves all of the activities and fun, we highly recommend these 2 Masters and we've been very happy with the progress and development of our kid.
---
Smart Leisure LLC
Address :
9F9F+M85 – Ajman Industrial 2 – Ajman
Contact Number :
+97167480762
Reviews Count :
★★★★★ 4.1 | 17
Website :
http://www.smartswimmingpools.com/
Location :
Customer Reviews :
1:
Abid Hussain: Nyc and affordable then the others same places.
2:
ahsan elahi: Good service
3:
Samsung A8 6: Nice place
---
All Stars Academy
Address :
Ajman one towers – Sheikh Khalifa Bin Zayed St – Ajman
Contact Number :
+971545558501
Reviews Count :
★★★★★ 4.1 | 85
Website :
NA
Location :
Customer Reviews :
1:
mohamed Metwaly: Friendly staff and helpful specialy Amal she will take good care of your kids and follow up
2:
Abdul Rahman Yasser: It has state of the art equipment and very friendly staff. Highly recommended!
3:
AemAm mArketing: V Good Academy
---
Fitness Time Rashidiya PRO 16+
Address :
Near Ajman Stadium – Sheikh Khalifa Bin Zayed St – Ajman
Contact Number :
+966920003131
Reviews Count :
★★★★★ 4.4 | 807
Website :
http://www.fitnesstime.com.sa/
Location :
Customer Reviews :
1:
Andrei Detiquiz: Great gym. Complete equipment and amenities. I'm a swimmer and include swimming in my training so the well maintained pool is a big plus for me. Gym staff and coaches are friendly and approachable. Overall, best gym in Ajman.
2:
Omar Gasmi: Best Gym in Ajman if not in UAE. Gym, football, volleyball,basketball,pool, sauna, steam, jacuzzi, cardio area, trx , kickboxing, ropes. What else could you ask for. Yearly membership is a real Deal 👌 …
3:
Bachir EL Baba: Very well maintained place, has lots of cardio machines plus whatever needed in body building . They have a mini football court plus indoor basketball\volleyball and indoor pool in addition to having group classes. The only negative point is that they don't force using towels while people use the equipments .
---
The GYM Sports Center, CT
Address :
CC3H+FVP – 11th Floor, Corniche Tower, Corniche Road – Ajman
Contact Number :
+971552820726
Reviews Count :
★★★★★ 4.0 | 16
Website :
NA
Location :
Customer Reviews :
1:
Brice Raphen: You gotta love the view. Nice small comfy gym
2:
SuperCrazy Music: One of the best kick boxing and muay tay trainers
3:
Khalil Alsamareie: Very good
---